Computerized Instruction for Students of All Ages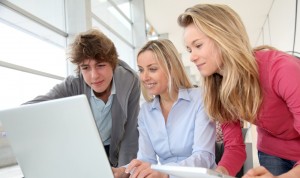 Weaver Instructional Systems provide a computerized method for systematically teaching Reading, Language, Study Skills and Mathematics with a flexible and graduated curriculum, individually tailored for each student.
Our proven online educational software modules are written by experienced classroom instructors for grade levels 1 through 14.
All students are assessed with an Automatic Placement Test and are matched to the curriculum according to their assessment results. Intelligent Software Design tracks student performance and automatically changes their grade level of instruction according to their mastery of the materials.

Proven Results
Weaver Instructional Systems' methodology is uniquely designed to teach a series of skills with instructional and practice lessons. Each lesson plan is based upon the philosophy that skills must be taught prior to providing practice lessons, and that new words and concepts are learned through repetitive usage and exposure. The extent of a lesson plan's repetitive usage and exposure is determined by the Intelligent Software Design and is controlled by the instructor, for each individual student. As evidenced by test score gains, Weaver products really work, and meet NCLB funding requirements.

Great Technology
Weaver online educational software incorporates the latest XML/.NET technology and is available with just a web browser, such as Internet Explorer or Netscape. Call us today for details or a free 30 day demo.